We Buy All Kinds of Vehicle Brands In Sydney!







Car Recycling Sydney:
When it comes to car recyclers in Sydney, look no further than Sydney Car Recyclers. As your go-to choice among Aussie car recyclers, they offer a convenient solution for car recycling near you. Sydney Car Recyclers takes pride in their commitment to responsible car recycling practices, ensuring that your old vehicle gets the eco-friendly treatment it deserves. Whether you're searching for car recycling near me or simply want to contribute to a greener future, Sydney Car Recyclers has you covered. Trust them to handle all your car recycling needs efficiently and sustainably.
Aussie Car Recyclers Near You
Aussie Car Recyclers in Sydney is your trusted solution for eco-friendly car recycling. Located conveniently near you, Aussie Car Recyclers Sydney is a top choice among Aussie car recyclers. Their commitment to environmental preservation ensures that your vehicle is dismantled, recycled, and disposed of with the utmost care and efficiency. If you're searching for Aussie car recyclers near you, consider them your go-to option for a sustainable and hassle-free car recycling experience that benefits both you and the planet.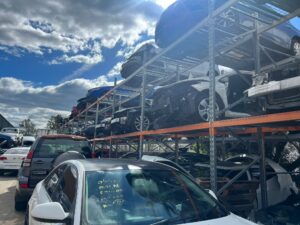 Salvage Yards Sydney
Sydney Car Recyclers is your premier destination for all your automotive salvage needs in Sydney. With a commitment to eco-friendly practices and top-notch customer service, we stand out among the many salvage yards Sydney. Our extensive inventory of quality used auto parts Sydney ensures that you'll find the right components for your vehicle, whether you're looking for parts for a car, truck, or SUV. We take pride in being one of the leading car salvage yards Sydney, offering competitive prices and convenient services that cater to your specific requirements. Located conveniently near you, our salvage yard provides a hassle-free solution for salvaging and recycling your old or damaged vehicles. When it comes to salvage yards near me, Sydney Car Recyclers is the name you can trust for unmatched expertise and reliability.
Cash For Old Car Removals Sydney, NSW
Old, junk and scrap cars sitting in our garage, hardly seem like a problem in comparison to the problem of pollution. Nevertheless, old car owners still struggle to get rid of their old cars for cash as soon as possible. However, what if old car owners could get rid of their old car while helping to improve the environment at the same time? This may seem far-fetched to hear but Sydney Car Recyclers is a firm that helps to make this idea a reality.
Why Sell Your Junk Car To Us?
Sydney Car Recyclers is a firm that offers its services to purchase old cars and remove them for free too. However, their services also contribute to the improvement of the environment. They use their skill and expertise to reduce pollution that may emerge due to the production process in the automotive industry.
The options for car recycling are available NSW wide to sell such unwanted vehicles either salvage yard, wrecking yard or auto recycling centers. Similarly to get benefits from wrecked cars from NSW, better to choose cash for cars Sydney that easy and simple.

What services do they offer?
The Sydney Car Recyclers firm offers great deals to old car owners by offering them good prices in exchange for their old car. They also offer free car removal services. Usually, car owners have to pay for car removal services. Instead, the firm offers them cash to remove their car. These services help the owner to free some space from their premises so that they can use the space for other purposes.
Best Removal of Automobiles in Sydney – Just For You
Old car owners may face trouble to find service providers for car removal in case they live in the suburbs or other interior locations. However, Sydney Car Recyclers firm offers its services in various locations including Smithfield, Penrith and all nearest suburbs across Sydney, Australia. Thus, owners do not have to worry about the location. Moreover, unlike second-hand buyers, the car removal firm does not expect the owners to pay for repair work, paperwork, pick-up service or car assessment, price quote and car removal services.
They offer the owners a good price instead of asking for baseless discounts. Instead, the firm pays for the paperwork for the purchase of the car and provides pick-up services to remove the car from the owner's location, as soon as possible.
Not To Worry About The Makes And Models
In order to ensure the convenience of the old car owners, the firm makes provision for its professionals to go to the location of the owner's choice on the date and time that the owner mentions, to attend a meeting with the owner. This appointment enables the professional from the firm to assess the car and make a price offer that the firm may be willing to pay the owner in exchange for the car. The car assessment and price quote services are free of cost irrespective of whether or not the owner decides to sell the old car to the car removal firm.
How is this process Environmentally-friendly?
The car removal firm purchases the car from old car owners. They take the car to wrecking yards to work on them. The firm has many years of experience in the field of the automotive industry. It also has a team of skilful employees and professionals with the necessary training and technology to help them work on the cars. They wreck the cars or break them down to salvage functional parts of the car. Old, junk and scrap cars may not work, but they may have certain functional parts that can work as replacements in other cars with faulty parts. Even the metal and other materials from old cars can come into use in the manufacture of new cars and auto parts. This approach to salvage all the possible parts from old cars is very helpful in reducing unnecessary production.
We Repair, Recycle or Resell Your Scrapped Vehicle
The firm uses the policy of refuse, reuse and recycles with the old cars. If the firm is able to recycle and reuse old parts from the junk cars then the demand for new parts will also reduce. Hence, factories will not need to work as much to produce new products. This approach helps to reduce the emission of pollutants from the factories, pressure on natural resources and wastage.
Contact the Sydney Car Recyclers company to get rid of your car today!
SCR Testimonials
Very impressed by how talented their company is. They reach at your doorstep on the same day you Call! I have had the best selling experience. Recommended Auto Dismantlers in Sydney.
Wonderful service! I am happy that I choose to sell my old car here at Sydney Car Recyclers. I really had to do nothing. I just went there and I got my good cash on the same day.
The remanufactured car parts are as great as the new ones. I have bought some of them at reasonable prices and they also come with 3 months warranty.
Latest News About Vehicle Recycling Industry