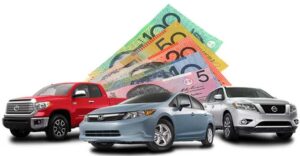 Cash for Cars Parramatta: We Buy Any Car, Any Condition
Are you looking for a way to get rid of your old car that has been sitting idle for years? Do you want to know how much cash you can get for it right now? You might be surprised to learn that your car's value has gone down over time and that there are fewer buyers interested in it. But don't worry, we have a solution for you. Cash for Cars Parramatta is a service that pays you up to $9,999 in cash for your unwanted vehicle, no matter what model, make or condition it is. We also offer free scrap car removal in Parramatta and nearby areas, with same day service and hassle-free paperwork. Contact us today by calling 02 9172 5621 or filling out our online form
All you need to do is fill out our online quote form and get an instant offer on your junk car. We will come to your location, tow away your car for free and pay you on the spot.
We accept all kinds of vehicles, including sedans, SUVs, 4WD, Ute and Trucks. If you have any questions, just give us a call and our friendly staff will assist you. Cash for Car Parramatta is the best way to turn your scrap car into cash.
Cash for cars Parramatta road is our main service area, but we also cover other parts of the city. Whether you live in the north, south, east or west of Parramatta, we can reach you and offer you cash for scrap cars Parramatta. We are the most reliable and convenient option for car removal Parramatta. Don't let your old car take up space and collect dust. Contact us today and get instant cash for cars Parramatta.
Why choose us?
We pay up to $9,999 in cash for cars Parramatta
We offer free car removal Parramatta and nearby areas
We accept all kinds of vehicles, including cars, trucks, vans, SUVs and 4WDs
We are licensed and insured car wreckers Parramatta and car buyers Parramatta
We are also Car Recyclers Parramatta who can help you with any spare parts or materials you need for your car
How to sell your to Cash for Car Parramatta car in 3 easy steps?
Selling your car with us is easy and fast. Just follow these 3 simple steps:
Get a free quote online or over the phone
Schedule a convenient time for us to pick up your car
Get paid cash on the spot and enjoy free towing
How to Sell Your Car Fast and Easy with Car Removal Parramatta
Do you have a car that you no longer need or want? Do you want to get rid of it without any hassle or cost? If you answered yes, then you should contact Sydney Car Recyclers, the best car buyers and car wreckers in Parramatta. We offer car removal Parramatta services for all types of vehicles, regardless of their condition, age or model. We will pay you top cash for scrap cars on the spot and tow away your car for free. No hidden fees, no delays, no worries. Just fill out our online form or give us a call and we will give you an instant quote on your car. We are the car wreckers near Parramatta that you can trust and rely on. Our team of professional and friendly staff will handle everything from the paperwork to the towing for you.
We also recycle and reuse the parts and materials from your car in an environmentally friendly way. Sydney Car Recyclers is the best option for anyone who wants to sell their car fast and get top cash for unwanted cars Parramatta. Get a free quote today. You will be surprised by how much cash you can get for your scrap car.
Contact Us
Don't wait any longer and get cash for scrap cars Parramatta today. Contact us by calling 02 9172 5621 or filling out our online form. We service all areas in Parramatta and surrounding suburbs.
As Car Recyclers Parramatta, we can buy your scrap metal and pay you top dollar for it. We have advanced equipment and techniques to dismantle your car and salvage its parts and materials. This way, we reduce the waste and pollution caused by old cars. Car Recyclers Parramatta also sell quality used auto parts at affordable prices. If you need any spare parts for your car, you can contact us and we will help you find what you need. You can read more about us in our about company page.